8 Ways to Feel Relaxed in Front of the Camera
If just the thought of a camera constantly pointed your way makes you sweat, your engagement shoot and wedding day might be a huge source of stress right now. To get the photos you want without feeling super anxious, you'll need to stay calm, cool, and collected when the flash fires. Easier said than done, right?
Here are a eight tips to keep you majorly relaxed while your photographer snaps away.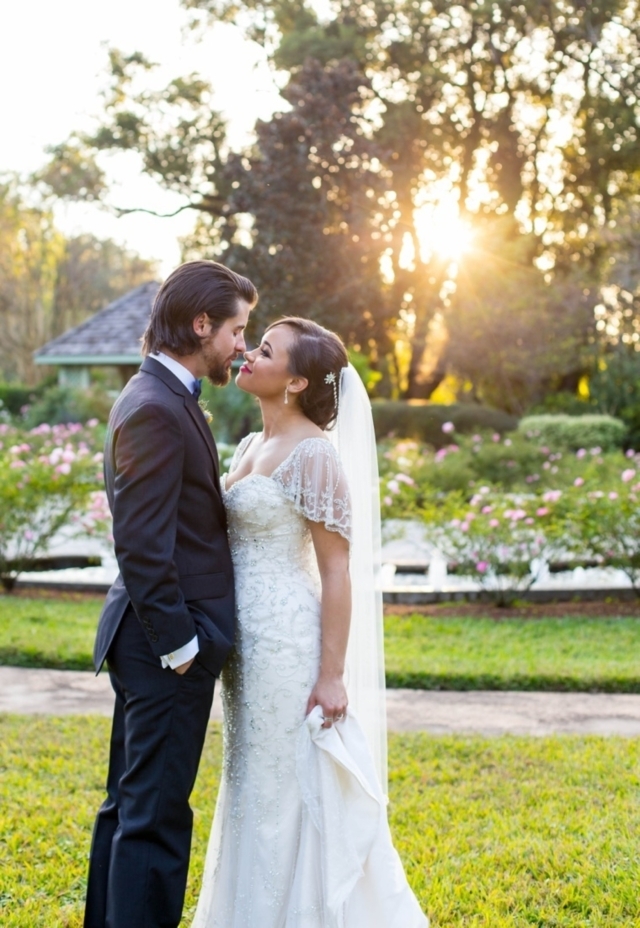 Photo by Lauren K. Downing on Every Last Detail via Lover.ly
1. Get to know your photographer. While an in-person meeting is best, even a chat over the phone before your engagement session can make a huge difference. You'll get a feel for the photographer's personality — and he or she will get to know you, too, while gaining a better idea of what you're looking for. It's always easier to pose for someone you know than for a stranger.
2. Take engagement and wedding photos with the same photographer. While your engagement sesh can be considered a test run of sorts, hire the person you're pretty sure will photograph the big day. You'll spend the shoot really getting to know the photog and his or her style. Plus, you can see the engagement images before the wedding and share what you love and don't love. By the time the big day comes around, you'll feel so much more relaxed knowing everyone's on the same page.
3. Wear something you love. If you're a jeans-and-a-T-shirt kind of gal but decided to wear a fancy dress for your engagement photos, you're going to feel uncomfortable the whole time. Can't stand up straight while wearing heels? Go with chic bridal flats on your big day. Not only will you be all the more comfortable during the "I dos," but your snaps will look more natural, too.

Photo by Charlotte Jenks Lewis 
4. Have a drink before the shoot. A glass of champagne or a cocktail can work wonders when the camera comes out. Just stick to one or two! Too many and you might look sloppy in all the shots. Want to have a little more fun with this idea? Bring a bottle of bubbly to open during your engagement session, or do the shoot at a favorite bar or restaurant.
5. Schedule plenty of time. You're anxious as is — don't add more stress to the situation by being pressed for time. Pencil in at least a half hour more than you think you'll need. This way, you'll also have a little time to get ready, settled, and get past those first few warm-up shots.
6. Plan less formal photos. Maybe it's the thought of traditional, staged group photos that has you anxious? Nobody said those shots are required. There are plenty of ways to take pics of your families and wedding party without standing in a prearranged pose. Talk to your photographer about sitting or walking for group shots instead.
7. Find an item to hold. Wondering what the heck you're supposed to do with your hands? You're not alone! If you're really unsure, find something subtle to keep close. Maybe it's your bouquet, your significant other's hand, the train of your dress, or something else. No matter what it is, you'll feel like your hands have a purpose when they've got a job.
8. Practice, practice, practice. It may seem super silly, but rehearsing being in front of a camera can make you feel at ease. It can be totally casual, too. Ask a friend or your partner to snap some photos ( not selfies) just so you can practice posing. Or, plan more sessions throughout the wedding planning process: hire a photographer for your bachelorette or bachelor party or ask a talented friend to shoot the rehearsal dinner.
Keep in mind, it's totally normal to feel out of place in front of a camera, but relaxing is so important on the big day. Remember that there's no need to feel awkward and trust that your photographer will do his or her best to make you look outstanding.
–By Kristin Doherty
Camera shy? Read on for more photo tips:
10 Conversations You NEED to Have with Your Wedding Photographer
How to Make Sure You Get the Wedding Photos You Want
How to Make Your Wedding Photographer's Job Way Easier